Jazmín Carvajal is a character in the Disney Channel Latin American show Soy Luna. She is portrayed by Katja Martínez.
Personality
Edit
Jazmín is quite different from her friends, Ámbar and Delfina. Jazmín has no filters and will tell you her opinion whether you want it or not. She is very naïve and oblivious to what is going on around her. She follows all of Ámbar's plans blindly, knowing that is the price you pay for being in a group. Jazmín lives off of social media and yearns for the opinion of others.
She is best friends with Delfina and Ámbar. When she is in Jam & Roller with Delfina, they are asked for help by Nicolás who is taking them their drinks and cookies, but they refuse. While Ámbar is in Cancún, she and Delfina video chat with Ámbar. She and Delfina tease Nina, who is sitting near them. When Ámbar gets back, they have a small get together and talk about Luna Valente. At Jam & Roller, she helps Delfina video tape Ámbar. She tries to loosen Luna's skate wheels, but has trouble, so Ámbar finishes the job.
Relationships
Edit
Best Friend
See: Jazfina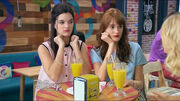 They are best friends and partners in crime. They often help Ámbar with her plans. They have a vlog/blog page called "Fab & Chic" where they talk about fashion and Matteo and Ámbar's relationship. They are alike in the way that they are sometimes dumb and ditzy, but are overall very loyal friends.
Best Friend
See: Jambar
Jazmín and Ámbar are also best friends. Jazmín is a very supportive friend to Ámbar and is always there when she is needed. She also tries to help Ámbar destroy Luna's life.
Crush
See: Jazmón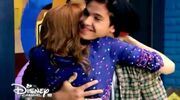 Jazmín has a crush on Simón but Simón is oblivious to it. Simón helps Jazmín with her singing. In Season 1/Episode 26, Jazmín wanted Simón to sing with her, but he did not get the hint and Delfina joined her.
She has a crush on Simón.
She isn't very smart, as seen in many episodes.
She has a very high pitched, almost distorted, laugh.
She gave Nina a pair of earrings before, for "fashion."
She was supportive of Delfina's crush on Gastón.
She did not participate in the International Skating Competition.
She believed that Ramiro liked her.
She used the name "Supper Happy Together" to comment on FelicityForNow's posts.
| | |
| --- | --- |
| | To view the Jazmín Carvajal gallery, click here. |
References
Edit
Ad blocker interference detected!
Wikia is a free-to-use site that makes money from advertising. We have a modified experience for viewers using ad blockers

Wikia is not accessible if you've made further modifications. Remove the custom ad blocker rule(s) and the page will load as expected.