"

I'm free, I'm me, I'm Luna!

"

— Luna
Luna Valente (born Sol Benson) is the titular character in the Disney Channel Latin America show Soy Luna. She is a sweet and kind girl from Mexico. Luna loves her family and friends. With talent and determination, she can do anything she puts her mind to. She is the daughter of Lili Benson and Bernie Benson, but was adopted by Mónica and Miguel Valente at the age of 2.
She is portrayed by Karol Sevilla.
Personality
Luna is simple, sweet, determined, kind, authentic, and unafraid. She has a good heart, but gets distracted sometimes. Her passion is skating, but she also enjoys singing and dancing. She values her family and her close friends. Luna tries to be nice, but can sometimes get annoyed.
History
Early Years
Luna was Born As Sol Benson Daughter Of Lili and Bernie Benson The Niece Of Sharon and granddaughter of Alfredo she spend her first years living in the Benson Mansion She was loved and Adored by Her Parents Her Aunt And her Grandfather when Sharon Acidently caused a Fire in The Mansion Luna Was Saved By Roberto Muñoz who brought her to Mexico where she was Adopted By Miguel and Monica Valente
Season 1
Part 1
Luna lives in Cancún, Mexico, with her parents Miguel and Mónica. She enjoys her life, friends, and hobbies in Cancún. Her world is turned upside down when her family moves to Buenos Aires, Argentina.
When the series starts Luna has a job at Foodger Wheels, where she works as a delivery girl, with her best friend Simón. She has a dream one night where she is dancing and skating at Jam & Roller, a skating rink she has never seen or heard of before. Luna is woken up by her mom, whom she then tells about her dream. Luna then heads off to work on her skates.
Luna is late to work and is yelled at by her boss, but Simón makes her laugh by making faces behind the boss. When she is inside she tells Simón about her dream, until the boss yells at them. He tells her it sounds more like a movie than a dream. Luna has to make a test delivery and comes back within great time, leading to a short celebration. When Ámbar Smith makes an order, Luna has to skate to the Benson's to deliver her food. On her way she bumps into Matteo, Ámbar's boyfriend, who flirts with her. Luna delivers Ámbar's food poolside, but spills hot chocolate on Ámbar's clothes after noticing Matteo at her house. Luna tries to rush out, but her skate gets caught on Ámbar's leg and she falls into the pool.
Matteo jumps in and pulls her out of the pool, but she loses her moon necklace in the process. When she dries off, her parents, who are working at the mansion, inform her they were given a job offer in Buenos Aires from Ms. Benson. Luna goes back to work, but her boss is displeased. After work she tells Simón she is moving, Simón comforts her and tells her it is an opportunity.
In Buenos Aires, Luna goes out skating and finds Jam & Roller, the rink from her dreams. She imagines her self dancing again as she watches the people skate. She meets Nico, who gives her passes to skate. She bumps into Matteo, who tries to flirt with her again. She gets home late and after a scolding by her parents, talks to Simón. He sings a couple of lines from "Valiente" to her, a song he wrote using the melody from Luna's dream.
The next day she returns to the rink. Luna sees Ámbar skating and dancing and tries to join in, but annoys Ámbar instead. When she tries to prove she can really skate, she makes a fool out of herself by tripping and falling. When she notices the rink is hiring, she looks for Nico and after a quick conversation with Delfina and Jazmín, meets Nina. Nina tells her about her love and fear of skating.
Luna finally finds Nico, and Luna is introduced to Nico's boss Tamara. Luna's skating abilities are tested, but she trips and falls because her wheels were loosened by Ámbar while she wasn't looking. Meanwhile an old sick man remembers dropping off a young Luna on the doorsteps of an orphanage. There was a fire, killing her biological parents, where she was the sole survivor.
After falling, she asks Tamara if she can use her own skates and aces the test. Tamara offers her the job. When she gets home, her parents are angry since she went back to the skating rink, and they tell her she can't go back. Luna goes to her room and calls Simón, but their call gets cut short when Simón's boss yells at him for being on the phone.
The following morning, Miguel drives Luna and Ámbar to Blake South College for Luna's first day of school. Matteo runs into Luna and makes her drop all of her stuff. She gets lost and is happy to find Nina, who is also running late. They arrive to class late together, and find a seat in front of Jim and Yam. Luna gets confused in class and has trouble understanding the math lesson. After class she sees Matteo, and tells Nina about her thing with him, but Nina has to run off because she left her book in math class, leaving Luna alone with Matteo. Matteo asks Luna about her first day at school, but is interrupted when Ámbar comes into the room. Ámbar tells Luna that she and Matteo are going to Jam & Roller, and asks if she wants to come, already knowing that she can't. Nina returns as Ámbar and Matteo leave, and takes Luna outside.
In the courtyard, she sees Jim and Yam dancing and compliments them. Jim and Yam recognize her from class and properly introduce themselves. Nina tells Luna that the girls are preparing for "Open Music." Jim and Yam say goodbye and Luna walks off with Nina. They talk about singing and skating until Ana comes to pick up Nina. Luna walks home and comes in through the main door, once inside Amanda warns her not to use the main door again. Amanda also gives Luna her moon necklace, which she had forgotten to put on. She has a conversation with Sharon, who seems to be quite mad at her as well. Afterwards, Amanda signals for Luna to run off. Luna tries to use the house phones but Sharon finds her and yells at her again, telling her not to use the house phone again. The phone rings and she picks it up, the person on the phone asks for Sol Benson. Sharon tells her to give her the phone and to go somewhere else.
This summary is incomplete.
Part 2
TBA
Season 2
Part 1
Part 2
Season 3
Part 1
Part 2
Relationships
Friends
Best Friends/Ex-boyfriend
See: Lumón
Simón and Luna have known each other since they were little. They make a great duo, since they competed together in the Jam & Roller skating competition. Without knowing that Simón likes her, Luna acts like a typical best friend. Luna may secretly return his affections. Luna cares deeply about him, just like he cares about her too. In Season 1/Episode 28, Simón and Luna almost shared a kiss. When Simón started dating Daniela, Luna was jealous and Nina asked her if it was because she liked him.
Best Friends
See: Lunina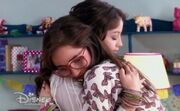 Luna first ran into Nina in the locker room in Jam & Roller and they started talking. They became very good friends as they got to know each other. In Season 1/Episode 11, Nina got Luna out of the room she was locked into by Ámbar. Luna is one of the few people who know that Nina is FelicityForNow.
Enemies
Rivals
See: Lunbar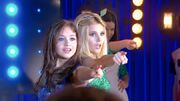 When Luna's parents accept a job offer to work in Buenos Aires, Luna and Ámbar start to live in the same house. The two girls immediately start on the wrong foot, due to a previous meeting where Luna spilled hot chocolate on Ámbar. In Season 1/Episode 05, Ámbar kisses Matteo on stage, which makes Luna jealous. Ámbar is also jealous of Luna and her relationship with her family. She wants Luna to fail in everything, especially in skating. It has also been shown that Ámbar wants to steal the spotlight from Luna.
Romances
Boyfriend
See: Lutteo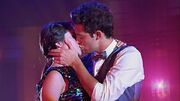 Luna and Matteo met in Cancún, when Luna accidently stumbles with him. Luna does not like having Matteo flirt with her. But without knowing his secret crush on her, Luna cares about Matteo, just like he cares about her. But Matteo does not want anybody to notice it. In Season 1/Episode 12, Matteo almost kissed Luna, after she accidentally poured some juice on his t-shirt. After, he returned the favor and with a straw, he threw some juice at her face. In Season 1/Episode 28, they hugged for the first time. In Season 1/Episode 30, Luna had a dream about kissing Matteo. They also played Romeo and Juliet in a play for their drama class. They share their first kiss in Season 1/Episode 40. Matteo starts developing feelings for Luna and tells Gastón about it in Season 1/Episode 51. He writes a song about her called Siento, but she doesn't know it was meant to be about his feelings for her. She later admits to Nina that she has feelings for Matteo, and the pair kiss in Season 1/Episode 80, just before Matteo leaves for Italy.
Trivia
Luna owns a moon necklace which is like her lucky charm.

It used to have a sun charm inside, but it was broken during the fire at the Benson house when she was little.

Her adoptive last name, Valente, is Portuguese for 'brave', which is also the English translation of the title of the song "Valiente".
Her first name, Luna, means 'moon' in Spanish, Romanian, Slovenian, Latin and Italian.

Her birth name, Sol, means 'sun' in Spanish and Portuguese, and also in Latin, Swedish, Norwegian and Danish, but with a different pronunciation.

Luna dreams about her mother and in one of her dreams, there was smoke. She was probably dreaming about the accident that led to her parents' deaths.
Luna also had a dream about her birth father, Bernie Benson. She dreams about him pushing her on a swing as a child, and then he walks away as someone calls "Bernie!"
She is not good at math or chemistry.
Luna tends to dress in very colorful clothes, and wears a lot of bracelets. Her style can be described as boho-chic.
She has pyrophobia, most likely due to the accident.
She was adopted in Mexico City.
She is very ticklish
She is right-handed
Gallery 
| | |
| --- | --- |
| | To view the Luna Valente gallery, click here. |
References