Nicolás "Nico" is a character in the Disney Channel Latin America show Soy Luna. He is portrayed by Lionel Ferro.
Personality
Edit
Nico is a gentle and friendly guy, who respects everyone around him. Nico dreams of having a rock band with his best friend Pedro.
He works at Jam & Roller with Pedro, he is the manager of the skating rink. He creates a band with Simón Álvarez and Pedro and plays the guitar.
Relationships
Edit
Best Friend/Bandmate
See: Pedrico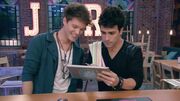 Nico and Pedro are best friends. They have both told each other who they like and Nico often does things for Pedro.
Good Friend/Bandmate
See: Simico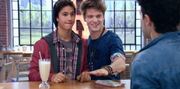 Simón and Nico are good friends. They are in a band together with Pedro. They both work at Jam & Roller. Nico has picked up on Simón's crush on Luna and helps him win her heart.
Friend
See: Luco
Luna and Nico are friends. They immediately become friends when they meet at Jam & Roller, where Nico helps Luna out and gives her multiple skate passes.
Ex-girlfriend
See: Jico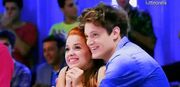 Jim and Nico start off as friends. At the beginning, Jim is aware that Nico has a crush on her, but she still has feelings for Ramiro. They dance together in the skating competition and sing "A rodar mi vida," "Un destino," and "Invisibles" together. Eventually, Jim develops feelings for Nico. She tries to tell him this, but both end up arguing. Nico then tries to ask Jim out multiple times. They have a short relationship, but Jim always acts very nervous around him. After their split, she tries to make him jealous with an imaginary boyfriend. Nico gets very mad at her, but gives her a second chance in Season 1/Episode 79. Jim explains that she is nervous around him because he is the first boy she has ever liked. They share their first kiss in Season 1/Episode 79.
He is very kind to Luna, giving her free passes to the roller rink.
His partner for the International Skating Competition was Jim.
Nicolás can be assumed to be older than the rest of the main characters because he does not attend school, and works all day at Jam & Roller. He also mentioned that he is older than Jim.
He is studying music.[1]
| | |
| --- | --- |
| | To view the Nicolás gallery, click here. |
References
Edit
Ad blocker interference detected!
Wikia is a free-to-use site that makes money from advertising. We have a modified experience for viewers using ad blockers

Wikia is not accessible if you've made further modifications. Remove the custom ad blocker rule(s) and the page will load as expected.