Ramiro is a character in the Disney Channel Latin America show Soy Luna. He is portrayed by Jorge López.
Personality
Ramiro is very self demanding. He can skate, dance, and sing very well, and he knows it. He wants to do everything well, and when he does not, he can not keep his frustration in check. Ramiro can't admit to any of his mistakes, and tries to blame his mistakes on the people around him. In other people's eyes he can be seen as arrogant and unsympathetic. Ramiro dreams of being a star, and works hard, hoping one day his dream will come true.
History
Season 1
Part 1
At the start of the first season, Ramiro is shown to be talented and hard-working, but also quite arrogant and conceited, especially towards Jim and Yam. He is very dismissive of them and of their performance at Open Music. However, as the season progresses, it is revealed that Ramiro actually has a crush on Yam. He talks her into skating with him for the competition, but they argue after being eliminated in the first round. Jim later convinces them to put aside their differences and join forces to perform at the second Open Music.
Part 2
Season 2
Part 1
Part 2
Relationships
Romances
Friend/Former Crush-on-by
See: Jimiro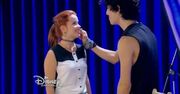 Ramiro sees Jim as a friend and has opened up to her about never losing anything. They once had an informal dance battle when Jim saw Ramiro dancing on the stage in Jam & Roller. Ramiro is still unaware of her former crush on him.
Ex-girlfriend
See: Yamiro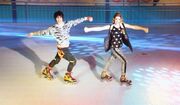 Ramiro has a crush on Yam, but Yam only sees Ramiro as a friend. They danced together in the International Skating Competition, but they were eliminated in the first round. Later, when Ramiro seems interested in Vero, it is shown that Yam has a crush on him too. When Vero's boyfriend shows up, Yam and Ramiro pretend to be dating and share their first kiss in episode 40 of season 1. They begin to date for real in Season 1/Episode 60. However, they broke up in Season 1/Episode 75.
Trivia
He can beatbox and rap.
He has a dog named Ritmo.
He loves Hip-Hop.
The name 'Ramiro' means "judicious".[1]
Classical music makes him want to go to sleep.[2]
Jorge López has nicknamed Ramiro "Rama".
Pablo from Los Adrenaline called him "Rapmiro" a couple of times, making a reference to his usual habit.
He doesn't like to talk much about personal stuff.[3]
Gallery
| | |
| --- | --- |
| | To view the Ramiro gallery, click here. |
References