I think, by now, most of you have taken a stroll to the Soy Luna en Concierto page, and have seen the ridiculous amount of variance in the prices for tickets. But you may be wondering, after conversions, how different are the prices? Boom, here's a chart with US dollars... and Euros, because y'all aren't 'Murican, and that really sucks for you. The decimal is marked with a period (full stop) for everything.
Country
City
Original Price
Price ($)
Price (€)
Argentina
Buenos Aires
385 ARS
24.80
23.30
Córdoba
472 ARS
30.40
28.57
Salta
660 ARS
42.51
39.95
Tucumán
550 ARS
35.43
33.29
Rosario
440 ARS
28.34
26.63
Chile
Santiago
20,200 CLP
31.58
29.68
Peru
Lima
110 PEN
33.81
31.77
Colombia
Medellín
103,000 COP
36.10
33.92
Bogatá
165,000 COP
57.83
54.34
Barranquilla
119,000 COP
41.71
39.19
Cali
128,000 COP
44.86
42.16
I was about to say that the tickets were actually pretty cheap, but they're actually pretty average. They're way more expensive than tickets to Disney on Ice or Phineas and Ferb LIVE! ($20 each, lowest tier), but they're cheaper than Hannah Montana's tickets back in the day, which clocked in at $65. If you're going to compare them to a real concert, like Taylor Swift or something, then yeah, they're dirt cheap.
So, why are the tickets more than double the price in Bogotá than in Buenos Aires?
Well, let's take a look at the seating charts: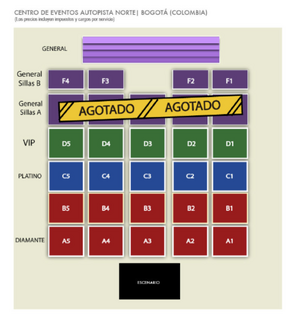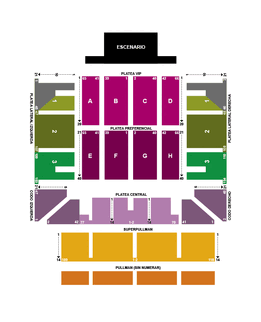 Also not very helpful, here's some photos instead: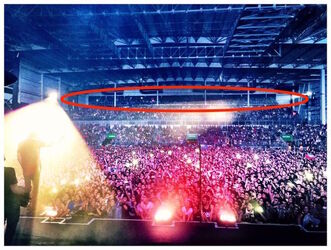 I guess your ticket buys you a closer seat? maybe?
Ad blocker interference detected!
Wikia is a free-to-use site that makes money from advertising. We have a modified experience for viewers using ad blockers

Wikia is not accessible if you've made further modifications. Remove the custom ad blocker rule(s) and the page will load as expected.